About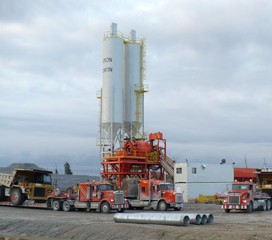 OUR MISSION
Sound expertise for concrete results
In addition to supplying concrete and by-products, we offer solutions tailored to your needs, whether they include mobile concrete plants, concrete pumps or heavy machinery. This allows us to provide valuable support for all types of building projects. For more than half a century, individuals, contractors, construction firms, mining companies and crown corporations have been able to rely on attentive service, advanced equipment and proven on-site expertise.
Building on a solid foundation
Our history is rooted in the development of the Abitibi-Témiscamingue and Northern Quebec regions. It began in 1942, shortly after the completion of the road linking Amos with Val-d'Or, when shipper Thomas Fortin converted his business to gravel shipping, machinery rentals and concrete pipe manufacturing in the Amos area.
In the 1960s, Thomas Fortin Inc. underwent a major expansion phase by acquiring crushing plants and facilities manufacturing concrete and concrete blocks. These major investments enabled the company to develop new markets.
Wind of change
In 1967, Michel Fortin joined the team alongside his father and, in 1974, the family business took on the name Béton Fortin Inc. Over the years, the acquisition of more efficient plants and advanced equipment led to the company's involvement in large-scale building and civil engineering projects.
The company has since expanded its presence in the region by establishing concrete plants in Lebel-sur-Quévillon in 1990 and Rouyn-Noranda in 1996.
Large-scale projects
After the turn of the century, Béton Fortin went on to become one of the main concrete suppliers for the massive Eastmain-1 and Eastmain-1-A/Sarcelle/Rupert hydroelectric sites. These major projects led the company to acquire three mobile concrete plants and further develop its ability to meet stringent standards, such as those required by Hydro-Québec.
Armed with our extensive experience, we're now a major player in Quebec's concrete industry and a solid partner in all types of building projects.