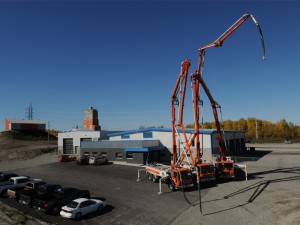 Concrete pumps rental
Our four high-capacity concrete pumps enable you to get the work done faster, save on costs and operate in hard-to-reach locations. A rare commodity in the region!
View our realized projects related to this service
We're the leaders in high-capacity concrete pump rentals in the Abitibi-Témiscamingue and James Bay regions. Our high-performance equipment accelerates and facilitates the concrete pouring process while helping you reduce labour costs.
With a mast 32 m or 36 m long, 12.5 cm in diameter and capable of outputting 150 m3/h, a concrete pump lets you overcome obstacles and pour concrete directly into your forms, regardless of their size or location. Pumps are especially useful for working high above ground.
To learn more about our concrete pumps, please refer to these technical specifications:
Realisations: concrete pumps rental