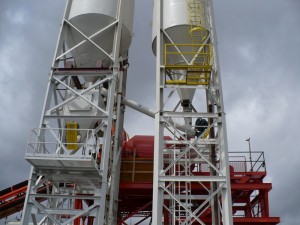 Mobile Concrete Plants
We produce concrete directly on your construction site, without compromising performance or quality.
View our realized projects related to this service
With capacities of 40 m³/h, 60 m³/h and 100 m³/h respectively, our three mobile concrete plants are portable, self-contained and fully automated.
Depending on the type you choose, each plant can be set up or dismantled in a few days or a few weeks, regardless of the location where it's needed. In addition, our ultramodern mobile laboratory enables us to guarantee the quality standards of the various types of concrete produced by each mobile plant.
40 m³/h plant
Operational in just a few days
Electronic weighing system with a digital indicator for the load cell
4 aggregate bins (30 tons each) with a 15-ton load cell
125 hp steam boiler
Water regulator to control mixing water temperature
60 m³/h plant
Operational in less than 2 weeks
3.5 m³ Johnson Ross mixer
Marcotte batching and control systems
4 aggregate bins (40 tons each) with a 15-ton load cell
2 cement silos (160 tons and 125 tons) with a 3-ton load cell
125 hp steam boiler
Water regulator to control mixing water temperature
100 m³/h plant
Operational in less than 3 weeks
7 m³ Heltzel Tilt mixer
Marcotte batching and control systems
Temperature and humidity probes for the concrete constituents
4 aggregate bins (40 tons each) with a 20-ton load cell
2 cement silos (200 tons each) with a 5-ton load cell
5 m3 concrete hopper
125 hp steam boiler
Refrigerator and water regulator to control mixing water temperature
Realisations: mobile concrete plants